Who Is Alpha Lion | What Is SuperHuman Pre Workout | Supreme VS Extreme | SuperHuman Burn | SuperHuman Pump | Sport | Similar To SuperHuman | Which Should You Try | Warnings And Side Effects | Disclaimer
What do you look for in a pre workout? Is it the energy, focus, or endurance and pump? Alpha Lion's SuperHuman Pre Workout line has a pre workout with everyone in mind. But it might not be obvious which pre workout is best for you. That's where we come in! We're covering Alpha Lion's pre workouts, their formulas and comparing them in this post.
Who Is Alpha Lion?
Alpha Lion is a brand with core values that encompasses promoting the best of yourself, which they take into overdrive through hundreds of hours of research and testing for their supplement formulas. Speaking of their formulas, to ensure trust and loyalty with customers, they are mindful of avoiding proprietary blends and maintaining fully-disclosed labels. That way, you know what you're getting from each product.

What Is SuperHuman Pre Workout?
SuperHuman Pre workout is the OG Alpha Lion Pre Workout. It features a classic blend of energizers, pump/endurance enhancers, and focus ingredients to promote great workouts. This version of SuperHuman also contains a 1-2 scoop formula, which is excellent for assessing tolerance. While we wouldn't say this formula is "stim-heavy," 2 scoops can be a lot for some individuals.
Energy & Focus Matrix:
This formula isn't crazy with doses or variations in stimulants. There's 150mg of Caffeine per scoop, so 300mg per 2 scoops. Then there is Infinergy™ DiCaffeine Malate at 50mg per scoop. This ingredient may help improve the duration of this matrix. † So, we wouldn't recommend this pre workout for individuals working out later in the evening.

The third ingredient in this blend is Theobromine, also at 50mg per scoop. Caffeine and Theobromine are derivatives of a class of stimulants found in coffee, tea, cola, and chocolate. Because of their similarities in structure, they have similar effects. Some users express that Theobromine's energy is not as noticeable yet may be longer-lasting. (1,2)
---
Pump & Performance Matrix:
Next is the pump and performance matrix, which features classic ingredients such as L-Citrulline Malate dosed at 3.5g per scoop. Generally, research on L-Citrulline uses dosages between 3 and 6 grams. But taking more than 6 grams may help promote oxygen content in muscles. So this is a great starting point for beginners to more advanced users. (3,4) This ingredient can improve vascular function by increasing L-arginine bioavailability and nitric oxide synthesis, which can support reducing blood pressure. (5,6)
The next ingredient, L-Taurine (500mg per scoop), is common in pre workouts and energy drinks. L-Taurine is a natural ingredient and amino acid produced by the body. Still, there may be times you need to supplement it. Therefore, it's considered a conditionally essential amino acid. Taurine plays a role in many bodily functions like maintaining hydration, digestion, supporting central nervous system (CNS) functions, and even may aid in regulating your immune system.(7) As well as aid in protecting muscles from cell damage and oxidative stress while also removing waste products that lead to muscle fatigue. (8)
The third ingredient in this matrix is Nitrosigine™, featured at 375mg per scoop. Research currently indicates that it may promote the increase of arginine, silicon, and nitric oxide production. As a result, it could boost endurance, promote better recovery, and promote blood flow. (9)
The last ingredient in this matrix, S7™, features a blend of 7 plants at 50mg per scoop:
Green Coffee Bean Extract

Green Tea Extract

Turmeric Extract

Tart Cherry

Blueberry

Broccoli

Kale
This blend may be beneficial for improving nitric oxide production and blood flow.†
---
Strength Matrix:
The following matrix features two ingredients popular in pre workouts, Beta-Alanine and Betaine Anhydrous. First, we have Beta-Alanine at 1.6g per scoop. This dosage is lower than the clinical dose range (2-5 grams). (10) But, this may benefit individuals who aren't fond of the tingling sensation (paranesthesia) Beta-Alanine can produce. Beta-Alanine can reduce muscular fatigue and improve work capacity by increasing carnosine levels. Carnosine can act as a buffer against muscle acidosis. This action reduces the acidity (the burn) in muscles during high-intensity exercises, which can help you push further. (11)
Like Beta Alaine, Betaine Anhydrous is at a lower-than-optimal dose. While 1.25g is still "active," it is minimally active. Generally, Betaine dosed between 2.5-6 grams is more effective. However, considering Betaine is among other exercise performance enhancers like the ingredients above, it may not need to be higher. Interestingly, in addition to aiding in work capacity and power output (not strength), Betaine may also improve body composition and reduce fat mass. (12,13)
---
Anti-Crash Matrix:
This matrix only features one ingredient, L-Theanine, at 175mg per scoop. Interestingly, this is not a common ingredient in pre workouts. Theanine is considered an anti-stress amino acid, often recognized for its "relaxation without sedation" effect. But there may be a synergistic effect when combined with Caffeine. Research suggests that this combination may promote heightened focus, awareness, and energy. (14)
---
Absorption Matrix:
Our last matrix is one of the most important (in our opinion), the Absorption Matrix! While the dosages of individual ingredients matter, how well your body can absorb and utilize those ingredients is typically not as great as we'd like to believe. For starters, pre workouts are digested, which would make it subject to intestinal absorption and metabolism. (15) So, adding ingredients like AstraGin® and BioPerine® can increase the absorption of the other ingredients in this formula. (16,17)
---
Pros:
Build-Able Formula
Beginner-Moderate User Friendly
Transparent Label
Cons:
Low-Dose Single Serving of Strength Matrix
Low Servings Per Container For Advanced Users
---
How To Take SuperHuman Pre Workout:
Alpha Lion suggests beginners mix one scoop with 6-8 ounces of water. Mix two scoops with 8-10 ounces of water for advanced athletes. Consume 15-30 minutes before lifting things and putting them down repeatedly.
SuperHuman Pre Workout Review by John: "The pre-workout taste great gives me the focus and energy that I need with no crash. Will definitely be buying more products." Posted on 12/28/21

Supreme VS Extreme:
If you're more of an advanced user for pre workouts, SuperHuman Supreme and Extreme are more up to your standards. But there are key differences. First, let's go over how the servings are displayed. While both products have a max of one scoop, the Extreme shows the initial serving size as 1/2 a scoop. We always recommend assessing your tolerance before taking a full scoop in either case. To compare these products more directly, let's use the dosage range from 1 full scoop, so 21 total servings per container each.
Energy & Focus Matrix:
When you compare these labels, you can see there are three ingredients shared between them, including:
Caffeine

N, N-Dimethylphenethylamine Citrate (N, N-DMPEA)

Infinergy™
The Extreme has 50mg more Caffeine than the Supreme out of these shared ingredients. But the other ingredients share the same dosage. N, N-DMPEA, or Eria Jarensis Extract, is a popular ingredient in fat burners and pre workouts alike for promoting mood and focus. When the ingredient DMAA couldn't be in supplements anymore, this ingredient could have risen as its replacement. However, there isn't enough research on this ingredient to determine its properties. Interestingly, it is often in non-stimulant formulas as well. So chances are this ingredient won't be adding to the energy part of this matrix. †
But, there are additional stimulants in both formula.
SuperHuman Supreme: 1 Scoop Dosing
Juniper Berry Extract 200mg
N-Methyl Tyramine HCl 75mg
SuperHuman Extreme: 1 Scoop Dosing
EnXtra™ Alpinia Galanga Rhizome Extract 300mg
Yohimbine HCl 2mg
Alpha Yohimbine 1mg
Starting with SuperHuman Supreme, our first new ingredient is Juniper Berry Extract. Juniper Berry Extract is a popular ingredient in diuretics and may assist with gastrointestinal and autoimmune disorders. But, currently, there isn't any research indicating this ingredient promotes energy or focus. However, it may induce a smooth energy curve when paired with Caffeine and other stimulants. This combination can contribute to long-lasting energy and reduce the risk of crashing. (18)
Next, we have N-Methyl Tyramine HCl or NMT, and this ingredient is the opposite of a fat burner ingredient. Research shows NMT can stimulate appetite and the absorption of fats and carbohydrates but inhibit the breakdown of fats into energy. So it may contribute to weight gain rather than weight loss. But, the increase in nutrient absorption may boost the perception of wakefulness. (19)
Moving on to SuperHuman Extreme, the first different ingredient in this matrix is EnXtra™.
EnXtra™ is a plant extract related to ginger, with clinical research proving its potential to promote alertness. Through blocking dopamine reuptake, dopamine levels rise. This increase results in enhancing performance, mental clarity, and mental alertness. (20)
The following ingredients stem from the plant Yohimbe, where Yohimbine and alpha Yohimbine are active alkaloids found in its bark. Yohimbine HCl, however, is a standardized form of this alkaloid. (21) These ingredients are popular for fat burners due to the thermogenic properties of Yohimbine. These fat-burning properties can promote appetite suppression, boost energy and focus, and fat mobilization. (22, 23)
---
Pump & Performance Matrix:
This matrix shares the same ingredients! The only difference is the dosage of the L-Citrulline Malate, where the Supreme features 1000mg more than the Extreme. As mentioned previously, L-Citrulline Malate can promote blood flow and endurance. The addition of malic acid (L-Citrulline + malic acid) forms Citrulline Malate. While this acid may promote energy itself, it is often used with supplements to improve absorption of ingredients†. (24)
---
Strength Matrix & Anti-Crash Matrix:
Like the previous matrix, these matrixes are identical with ingredients and only feature one dosage variation. There are 500mg more Betaine Anhydrous in the Supreme than in the Extreme.
---
Absorption Matrix:
In this final matrix, there is only one remaining difference. SuperHuman Supreme features 50mg of AstraGin®, whereas SuperHuman Extreme doesn't feature this ingredient. Therefore, lacking this ingredient may play a role in the product's overall effectiveness. Still, more research on this ingredient is necessary to confirm its function.
SuperHuman Supreme Review By Aaron: "My experience with all their products have been amazing! Best pre work out I've tried and the taste to their flavors are amazing!" Posted on 12/20/21
SuperHuman Extreme Review By Scott: "A solid preworkout that you can use daily without feeling burned out. Solid motivation and focus and the pumps are super on point." Posted on 12/20/21

SuperHuman Burn:
Next in the series is SuperHuman Burn, and you might be able to guess the direction of this pre workout. Unlike the OG, Supreme, and Extreme, SuperHuman Burn may assist in weight loss. Whereas the other pre workouts only featured ingredients popular in fat burners.
Interestingly, while SuperHuman Burn features almost all the same matrixes, the ingredients within them have shifted. But we also see a new matrix dedicated to fat burning and separation of the energy and focus matrix.
Pump & Performance Matrix:
This matrix features L-Citrulline Malate at 2g per scoop, Beta Alaine at 1.8g (featured in the Strength Matrix of the previous pre workouts), and L-Taurine at 500mg. Because this version in the series may assist in weight loss, it doesn't surprise us that the Citrulline Malate is dosed so low. However, what is surprising is how there is more Beta-Alanine in this pre workout compared to 1 serving (1/2 scoop) in the Extreme and (1 scoop) OG. So if you don't like the feeling from Beta-Alanine, be wary of going for two scoops here.
---
Energy Matrix:
The energy matrix here features one of the lowest dosages for Caffeine at just 112.5mg per scoop. The next ingredient, L-Theanine, is featured at the same dosage as Caffeine. This combination may promote more of a "clean energy feel ."† The last ingredient, Infinergy™, is at the same dosage as it appears in the other pre workouts. Overall, this blend isn't very stimulant-heavy. So this pre workout could be a good option for individuals with a low to moderate stimulant tolerance†.
---
Fat Burn Matrix:
This matrix sets SuperHuman Burn apart from the others, which features MitoBurn™ at 250mg per scoop, Advantra Z® at 83mg, Cocoabuterol® at 50mg, and CaloriBurn GP™ at 20mg. The first ingredient, MitoBurn™ or L-BAIBA, is also utilized in another Alpha Lion product, Gains Candy MitoBurn and at the same dosage. L-BAIBA is an amino acid that may play a role in metabolism and thermogenesis. (25) Likewise Advantra Z® or Bitter Orange Extract is a popular ingredient in fat burners to promote thermogenesis. (26)
Whereas, Cocoabuterol® is a newer ingredient making headway into fat burner complexes. This ingredient is a form of theobroma cacao extract standardized to 50% of cocoa alkaloids. This formula may help support lipolysis (fat burning), reduce appetite, increase energy, and boost mood. (27)
Finally, we have CaloriBurn GP™ or Grains of Paradise. This popular thermogenic ingredient may increase energy expenditure or calorie burning. (28,29)
---
How To Take SuperHuman Burn:
Alpha Lion recommends taking two scoops with 6-8 ounces of water 15-30 minutes before you're ready to crush your workouts. As a beginner, start with one scoop to assess tolerance first. Alpha Lion recommends two scoops per day for maximum workout intensity and fat loss ignition.
SuperHuman Burn Review By Sharla: "This stuff makes me feel amazing when I run. Gives me tons of energy without feeling jitter." Posted on 12/22/21

SuperHuman Pump:
Our next SuperHuman Pre Workout is their non-stimulant pump pre workout. Because it's non-stim, this is a great pre workout to stack with or for individuals that exercise in the evening.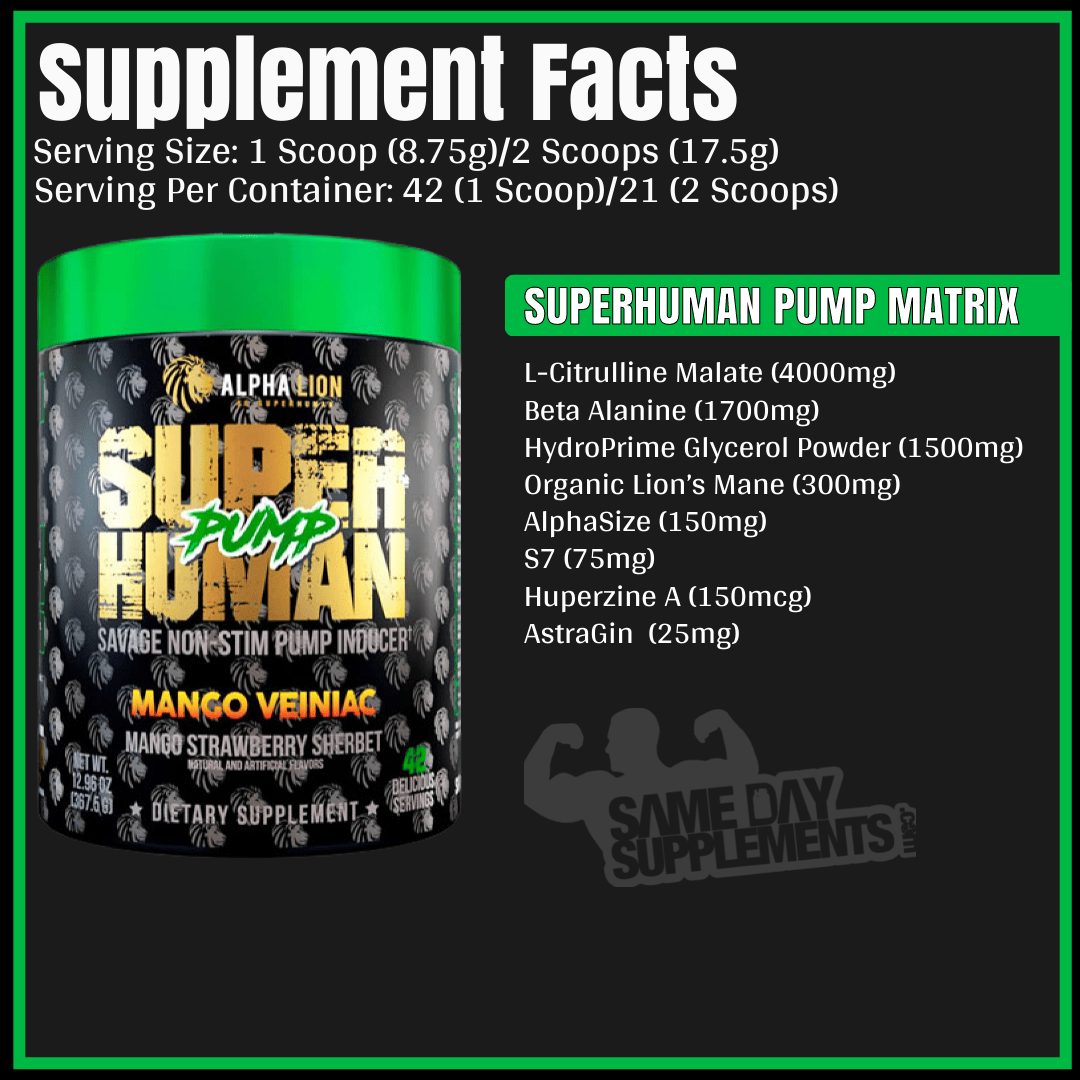 Pump Matrix:
As you can imagine from a pump pre workout, there's only one matrix for promoting pump, performance, and endurance. Our first ingredient, L-Citrulline Malate, dosed at 4g per scoop, is the highest dosage for this ingredient across all the pre workouts. Following L-Citrulline Malate is Beta-Alanine, which surprisingly features only 1.7g per scoop. While this isn't the lowest dosage from the series, it is lower than the Supreme, Extreme, and Burn.
The third ingredient in the formula, HydroPrime™ Glycerol Powder at 1.5g per scoop, can be beneficial for improving athletic performance and maintaining hydration. Which translates to reduced muscle fatigue and improved endurance. (30,31)
The following two ingredients aren't prevalent in pre workouts or fat burners; instead, you may see them featured in nootropics. Lion's Mane Extract may have neuroprotective properties. Some studies show it may improve mental clarity and functioning (32), and animal studies show it may be beneficial in preventing neuronal damage. (33)
Similarly, Alpha GPC may assist with improving cognitive processes like memory and attention. Typically, the dosage is between 300 and 600mg, but there is only 150mg here. So whether or not you feel some enhancement of focus or mood at this dose will depend on your choline levels. (34)
Next, we have S7™ featured at 75mg per scoop, the highest dose among the other pre workouts. Following S7™ is our last new ingredient, Huperzine A. Huperzine A is considered a natural antidepressant, but it may also be beneficial for improving focus. Additionally, it may help increase the level of acetylcholine. This boost may enhance mental alertness, focus, and concentration (35). Finally, we have AstraGin® at 25mg per scoop.
---
How To Take SuperHuman Pump:
Alpha Lion has three recommendations for taking SuperHuman Pump.
As a standalone product, take 15-30 minutes before your workout.
Stack with any SuperHuman Pre-Workouts for maximum energy, pump & performance.†
When cycling off stims, take SuperHuman Pump every other workout, so effectively, you are giving your body a 24-48 hour break from stimulants.
SuperHuman Pump Review By MG: "After taking this I was ready to hike out to the mountains and have a bench off with the nearest grizzly bear!" Posted on 12/23/21

SuperHuman Sport:
The newest addition to the SuperHuman line is SuperHuman Sport, a performance- and recovery-based pre-workout. Compared to the other pre workouts, this version has the least active ingredients per scoop, with 6.1g per serving.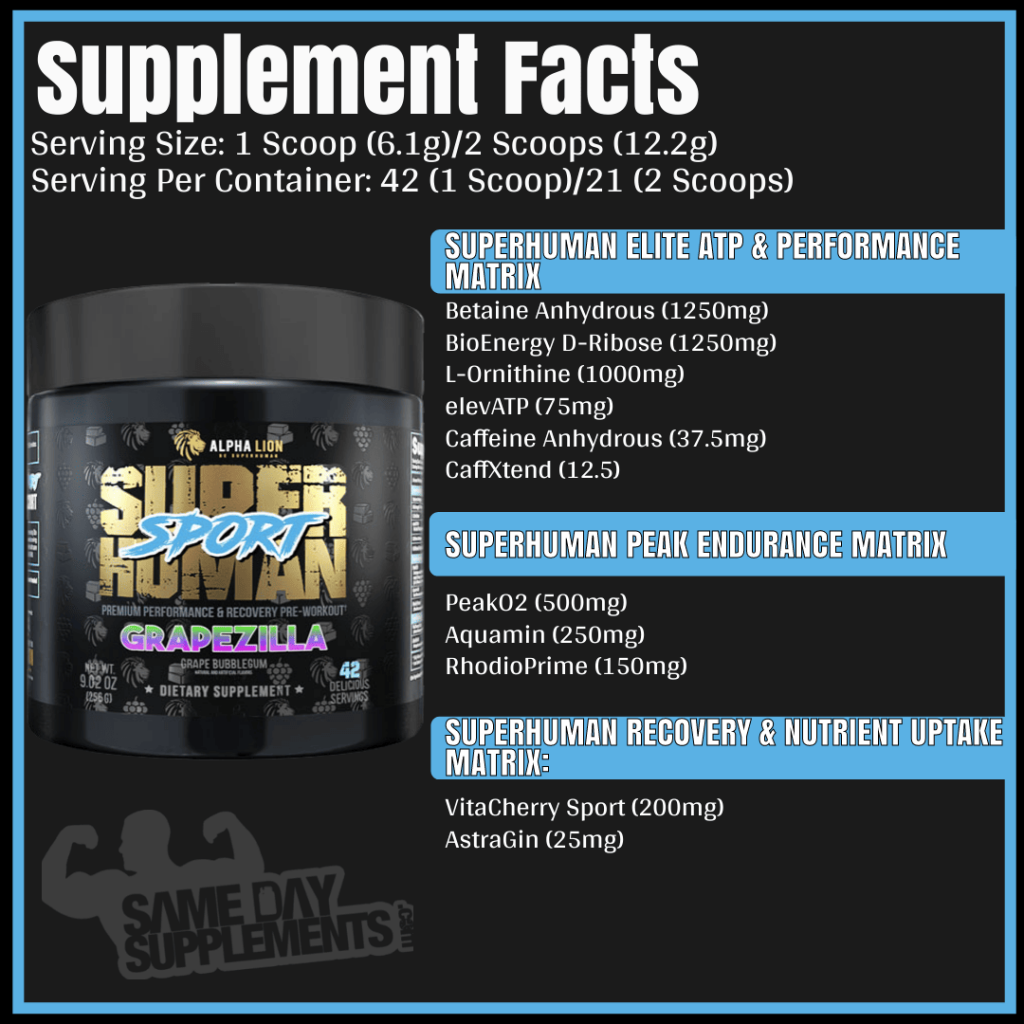 Elite ATP & Performance Matrix:
Our first matrix features a combination of energizers like Caffeine with performance enhancers like Betaine. With 1.25g of Betaine per serving, SuperHuman Sport aligns with the OG pre workout. While being an active dose, it's only minimally active.†
The next ingredient BioEnergy® D-Ribose is a clinically proven ingredient that may benefit high-intensity exercise. Research shows D-Ribose may improve exercise performance and recovery and enhance recovery of ATP level. Interestingly, this ingredient may also support cardiovascular health and reduce muscle soreness. (36)
Studies on this ingredient vary with dosages but tend to utilize around 5-20g per day. At 1.25g per serving, users may not get the full benefits from this ingredient. (37)
The third ingredient in this matrix is L-Ornithine, a non-essential, non-protein amino acid. This amino acid may help relieve stress and improve fatigue-related sleep quality. (38,39)
Following this ingredient is another clinically researched ingredient, ElevATP®. ElevATP® is a natural combination of ancient peat and apple extract. Current research suggests supplementing with this combination may improve performance during resistance training. (40)
Next, we have Caffeine at only 37.5mg per serving. This low dose can be great for someone with a sensitivity to Caffeine, but CaffXtend® follows it. This ingredient is a Natural Time Release Caffeine, meaning that the energizing effects release throughout the day after consumption. This ingredient is different from Infinergy™, which may extend the effects of Caffeine. However, more research is necessary to understand the effects and mechanisms of CaffXtend®†.
---
Peak Endurance Matrix:
This matrix features three trademarked ingredients intended to improve aerobic performance. Our first ingredient, PeakO2®, features a blend of mushrooms that may serve as an ergogenic aid and assist with delaying fatigue. However, research indicates the effects of PeakO2® were prominent at 4g per day for three weeks. SuperHuman Sport only features 500mg per scoop, so the dosage may not be optimal for these effects. (41)
Aquamin® is a seaweed-derived mineral source rich in calcium, magnesium, and 74 other trace minerals. Research indicates this ingredient can provide digestive health benefits. However, because Aquamin® is rich in calcium and magnesium, it may assist bone and joint health. One study's results suggest Aquamin® may increase range of motion and walking distances in subjects with Osteoarthritis. (42, 43)
Our final ingredient in this matrix is RhodioPrime®, which may be more potent than other forms of Rhodiola. Because of its standardization, it may promote brain health and athletic performance. (44,45)
---
Recovery & Nutrient Uptake Matrix:
This matrix is our last in SuperHuman Sport, which only features two ingredients, VitaCherry® Sport and AstraGin®. Research suggests that even short-term supplementation of VitaCherry® Sport surrounding may improve muscular recovery, reduced immune and inflammatory stress, and increase performance in aerobic training. But more research is needed to support these findings. (46)
---
How To Take SuperHuman Sport:
Alpha Lion suggests taking 1-2 scoops (s) in 8-12 ounces of water 15-30 minutes before going to the gym.

Similar To SuperHuman:
When you've found a pre workout that works for you, it can be difficult finding substitutes if stock is low. Luckily, SuperHuman Pre Workout features ingredients shared with lots of pre workouts. In this section, we'll be going over some similar options.
---
Psychotic HellBoy:
Our first comparison is between SuperHuman Pre Workout and Psychotic HellBoy. These products share five ingredients:
Caffeine
Infinergy™
L-Citrulline Malate
L-Taurine
Beta Alanine
Unfortunately, because Psychotic HellBoy features a proprietary blend, we can't determine the dosage comparison. In addition to these 5 ingredients, this formula features L-Tyrosine, Caffeine Citrate, AMPiberry®, and Rauwolfia Vomitoria.
---
L-Tyrosine:
Tyrosine is a common focus-enhancing ingredient found in pre workouts. So it's used to promote improved cognition. That includes attention, focus, memory, and even mood. Interestingly, researchers have found that these effects may be more prominent in individuals who are sensitive to stressors (47).
---
Caffeine Citrate:
Caffeine Citrate is the fastest-acting Caffeine available, making it very popular in supplements. Whereas Caffeine Anhydrous is the purest form of Caffeine available. †
---
AMPiberry®:
AMPiberry®, aka Juniper Berry, is a new ingredient in pre workouts. However, it's more prevalent in diuretics. So if you find yourself losing some water weight while taking either pre workout, you have the Juniper Berry to thank. But as you can imagine, that's not why Insane Labz included this ingredient. There is some evidence that AMPiberry® promotes a smooth energy curve when paired with Caffeine and other stimulants.†
What does this mean?
AMPiberry® will help increase the effects of stimulants. Doing so promotes lasting energy at a smoother rate. (48)
---
Rauwolfia Vomitoria Extract:
Rauwolfia Vomitoria Extract or Yohimbine is a great thermogenic. There are a couple of ways yohimbine functions. The primary method is by blocking alpha-2 adrenergic receptors located in fat cells. Once Yohimbine has bound with a fat cell, it "turns off" the alpha receptor, which allows the fat cells to mobilize and burn off. But Yohimbine is also a mild stimulant. For a pre workout, you'll get the benefits of a stimulant, and this ingredient may help you sweat more.(49)
---
How To Take Psychotic HellBoy:
Insane Labz suggests taking one serving in 8-10oz of water once daily. Never consume more than one servings in 24 hours. Do not take within 4 hours of bedtime.
Psychotic HellBoy Review By Edson: " I really liked this preworkout, especially the flavor. I had a lot of energy for training. I recommend it."

Dust Reloaded: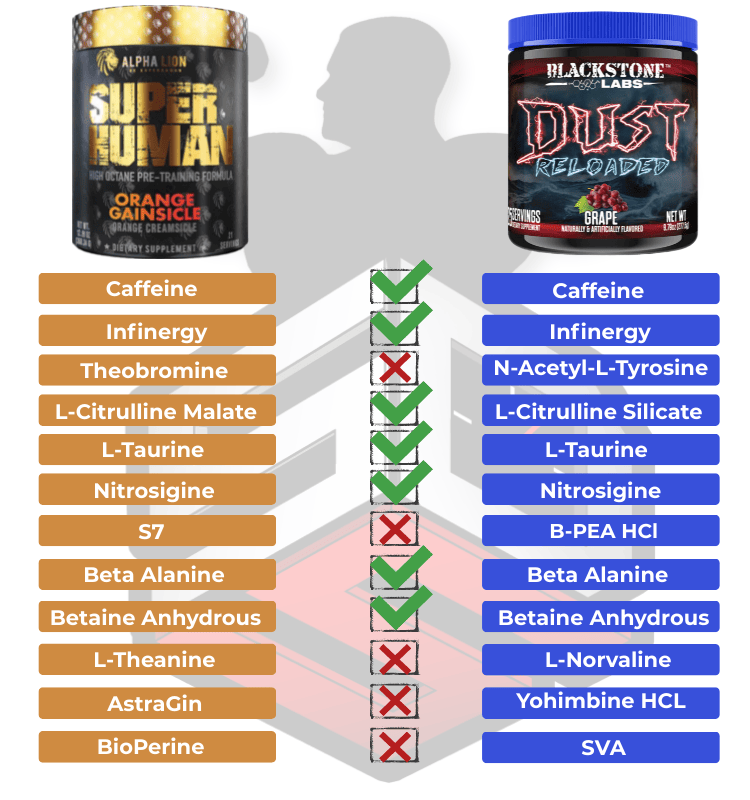 Next up, we have Dust Reloaded from Blackstone Labs. Dust Reloaded is their newest pre workout that features a combination of elements from Dust V2 and Hyper Reloaded. Compared with SuperHuman Pre Workout, these pre workouts share ~7 ingredients:
Caffeine
Infinergy™
L-Citrulline Silicate
L-Taurine
Nitrosigine™
Beta Alanine
Betaine Anhydrous
Additionally, Dust Reloaded also shares Yohimbine with Psychotic HellBoy.
Shared Ingredients:
We can say Dust Reloaded may be too strong stim-wise for some individuals right off the bat. Dust Reloaded features 390mg of Caffeine per scoop. With the addition of the 10mg DiCaffeine Malate, the energy complex can be long-lasting.†
Next, we have 1g of L-Citrulline Silicate compared to the 3.5g L-Citrulline Malate in SuperHuman Pre. Unfortunately, there isn't current research comparing these ingredients, so we can't be sure if one is better than the other. However, the dosage being significantly less in Dust Reloaded could indicate this formula isn't as optimized for performance as much as SuperHuman Pre†.
Following L-Citrulline, we have L-Taurine at 1g per scoop for Dust Reloaded, compared to 500mg in SuperHuman. This ingredient and dose may help promote the focus/tunnel vision effect in Dust Reloaded. The following shared ingredient, Nitrosigine™, is featured at 2g in Dust Reloaded and only 375mg in SuperHuman, which may boost the endurance/performance complex. And the addition of 2g of Beta-Alanine, compared to 1.6g in SuperHuman, also can assist this area.†
The last shared ingredient, Betaine, is only featured at 500mg in Dust Reloaded compared to 1.25g in SuperHuman Pre Workout. It likely won't play a huge role in boosting endurance or performance at this low dose. †
---
Beta-Phenylethylamine HCL:
Beta-Phenylethylamine HCL or PEA is a natural stimulant our bodies produce to serve several important functions. These functions can include supporting the regulation of our mood. Like most stimulants, PEA produces increased mood, focus, and energy. But what makes PEA special is how it can stimulate the production of endorphins, commonly known as your 'feel-good' hormone. (50,51)
---
N-Acetyl-L-Tyrosine:
N-Acetyl-L-Tyrosine (NAT) may be more bioavailable than L-Tyrosine. However, NAT may not convert to Tyrosine very well. But with the addition of the other focus ingredients, Dust Reloaded is still an excellent option for individuals looking for a tunnel vision in the gym. (52)
---
L-Norvaline:
L-Norvaline is a form of the amino acid L-Valine, which may aid in improving circulation and nitric oxide levels. This increase in circulation may assist with the pump and endurance-boosting effects from Dust Reloaded. (53)
---
Stearoyl Vanillylamide:
Stearoyl Vanillylamide is an analog of Capsaicin, a compound in various species of Hot Pepper that is primarily responsible for the spiciness. Like Capsaicin, Stearoyl Vanillylamide can help boost your metabolism and suppress your appetite while also providing some thermogenic effects†.
---
How To Take Dust Reloaded:
Blackstone Labs recommends mixing one (1) scoop in 8-10 oz. of water 30 minutes before workout on training days or first thing in the morning on non-training days. Due to extreme potency, new users may wish to assess tolerance with one half (1/2) scoop.
Dust Reloaded Review By Dragon: " Ohhh maii gahd!! Best Preworkout I've had in so long! I love dust v2 but this is a big step up from that and so much more intense! The energy, the mental focus and clarity the part where you think you're starting to die out on your workout session but then something kicks in and you have all the energy back! There's a slight euphoric feeling I think is cuz I took a full scoop and Im petite (it's strong but so good!)I definitely recommend it!"

Which Alpha Lion Pre Workout Should You Try:
Choosing between pre workouts can be made easier by understanding your type of workouts. For example, suppose your training revolves around intensive aerobic exercises. In this case, a stimulant heavy pre workout won't be as beneficial for you as a low-to-moderate one. One study's results suggest caffeine dosages at around 3-6mg/kg may help increase aerobic-based performance. However, there weren't any additional performance improvements at higher doses. (54) So, for example, at around 120lb (~55kg), the optimal range of Caffeine would be around 165mg-330mg.
---
SuperHuman Pre Workout:
The original SuperHuman Pre-workout is an excellent option for users with beginner-to-moderate caffeine tolerance. This formula offers a balance between stimulants and performance ingredients. Additionally, these ingredients are at dosages optimal for performance. Therefore, we recommend this pre workout for individuals who prefer a pump/endurance complex over a stimulant one.
SuperHuman Supreme and Extreme:
SuperHuman Supreme is nearly identical to the Extreme but with a slightly more pump/endurance-focused formula. So we would recommend SuperHuman Supreme to individuals who have an advanced stimulant tolerance and are looking for a balanced stim-to-pump formula. However, SuperHuman Extreme is slightly better for individuals with a high stimulant tolerance and looking for a solid stim-focus pre workout.
SuperHuman Burn:
The Burn is a fat burner/pre workout combo. So if you're sliming down for the summer or just like to sweat, this pre workout is up your alley. At just over 100mg of Caffeine per scoop, this pre workout can be good for beginner-to-moderate stimulant tolerances.
SuperHuman Pump:
As the name suggests, the Pump is a great pre workout option for individuals looking to maximize their pump. In addition, this pre workout features a stimulant-free formula, which makes it a good choice for evening-night gymgoers or individuals with caffeine sensitivity.
SuperHuman Sport:
The Sport is Alpha Lion's newest pre workout. This formula features a great blend of performance ingredients for individuals new to pre workouts or individuals with a low tolerance to stimulants. For example, if you usually have a coffee before the gym but want to boost your gym performance, this pre workout is a great choice.

Wrapping Up!
And this marks the end of our post on the different SuperHuman Pre Workouts by Alpha Lion. Thank you for reading! And as always, if there was something that wasn't clear, another question you might have, or if you have another idea for a blog, Email Us!
Are you looking for more to read? Check out some of our other blogs!
Super Pump VS Super Pump Aggression
Creatine 101
Psychotic VS Psychotic Gold
Bucked Up Pre Workout Review
Caffeine Pills VS Coffee
Is Gorilla Mode Pre Workout Good For You? (Review)

Warnings And Side Effects:
KEEP OUT OF REACH OF CHILDREN. This product is intended for healthy adults over the age of 18. Do not use this product if you are pregnant or nursing. Consult with a qualified healthcare professional before use if you are taking any medications or have any medical conditions.
This product may contain ingredients that are banned by some sports organizations and/or increase risk of false positive on a drug test. Please consult with your sport organization or physician before taking this product.

Disclaimer:
†PLEASE NOTE: The intention of the information provided is for reference only. Furthermore, we are in no way providing medical advice or instruction. Instead, the information provided in this guide/blog utilizes anecdotal information and available studies/reviews. While our goal is to maintain and display accurate information, we can't guarantee it represents the latest formulation of the product or information. Therefore, please visit the manufacturer's website if you have any concerns. Also, the information above does not represent our views here at Same Day Supplements. Instead, these are the views and information provided by the manufacturers and users. The Food and Drug Administration has not evaluated these statements. Finally, the intention of these products is not to diagnose, treat, cure or prevent any disease or illness.
The post Alpha Lion Pre Workout Review: SuperHuman Supreme VS Extreme (2022) appeared first on Supplement Reviews Blog.